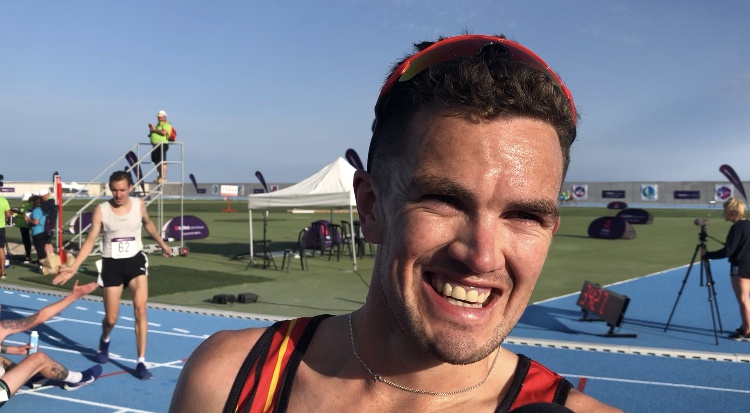 Alan Corlett won gold in style in the 10,000 metres
Ten medals on day one of competition in Gibraltar
Alan Corlett put in a performance to remember in the men's 10,000 metre race as competition in the Island Games in Gibraltar got underway in earnest.
He delivered a gold medal in some style to emulate the success of his training partner, Ollie Lockley, who won the same event two years ago in Gotland.
It's a third first-place finish in the event in the last four Island Games, after Kevin Loundes topped the podium in Bermuda in 2013.
Corlett's success added to a fantastic day for Team Isle of Man, with a combined ten medals won in the athletics, cycling and triathlon events.
It was an excellent day for the cycling teams, as Tara Ferguson took gold and Ellen Barker bronze in the women's criterium - in which the team gold was won as well - and the men's team won bronze in their event.
Earlier in the day, Bethan Pilley and Games debutant James Margrave sealed bronze medals in the long jump and high jump, respectively.
William Draper (silver) and Lynsey Elliott (bronze) got the day off to a brilliant start in the triathlon, with a further men's triathlon team bronze adding to the tally.
Only Guernsey attained more medals on the opening day of competition.
Alan Corlett spoke to Manx Radio Sport moments after crossing the finish line: