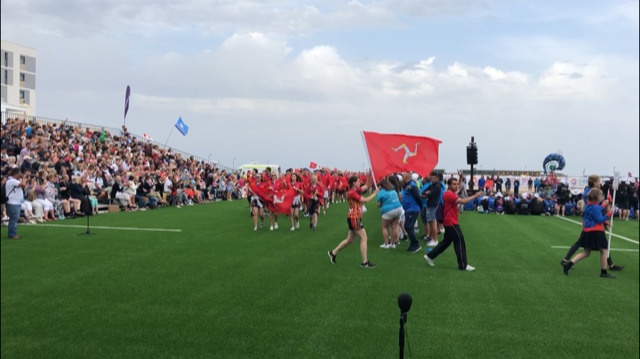 Badminton player Kim Clague leads in Team Isle of Man
Thousands of athletes entered the Europa Point Sports Complex on Saturday evening as the 2019 Island Games was officially opened in Gibraltar.
Team Isle of Man received a rousing reception from the crowd as they were led in by flag bearer Kim Clague, who's chasing a record-breaking fourth successive gold medal in the badminton women's singles event.
She was followed by 176 fellow Manx athletes, as well as the army of coaches, physiotherapists and support crew who are hoping to match the 101 medal haul achieved in Gotland at the last Games two years ago.
Swimmer Aimee Myers, the Isle of Man's youngest athlete taking part in Gibraltar at just 13-years-old, was selected as the water carrier.
Each island takes a sample of water from the sea surrounding their land before pouring it into one container at the opening ceremony.
Gotland were the first to enter the stadium, as is tradition, due to the Swedish island being the last to host the Games.
There were also special welcomes for Sark and St Helena - two of the smallest teams involved in the competition - who have just two and four athletes involved respectively.
Speaking to Manx Radio Sport, Kim Clague says breaking records hasn't been on her mind in the build-up to the event: