Tom Miller (right) with President Roy Gelling (photo credit: Paul Smyth)
Tom Miller scores week's high break with a 43
League leaders Malew 2 were beaten, but remain top of the 2018/19 Macs Builders Merchants snooker league after the first match of the second half of the season.
Week 12 saw the reverse fixtures from the previous week, at the opposite venues - so Malew 2 faced a trip to Douglas Snooker Club 'Hurricanes', who they had beaten 3-2 the week before.
However despite going ahead twice after wins in frames one and three for Mark Quinn and David Quayle, the 'Hurricanes' twice drew level through Nigel Kermode and Paul Smith, who had a break of 20 to take the match to a decider.
And Chris Dagnall completed the comeback, beating Alec Oates to ensure the two sides shared the spoils over the fortnight.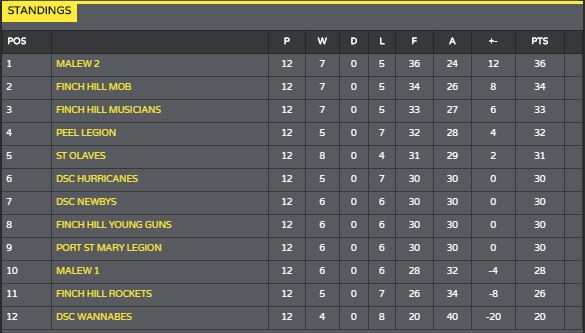 Finch Hill 'Mob' gained ground on the leaders after a 4-1 win at home to St Olaves, again a reverse scoreline from the week previous.
Tom Miller and Peter Crellin had breaks of 43 and 31 - the two biggest of the week - in their frame wins, with the other victories coming from Steve Oates and Steve Finnegan.
Dan Crawley had a break of 21 for the visitors, but it was Sean Corkish who registered their only frame win on the night which sees the northerners slip to fifth in the table.
Finch Hill 'Musicians' sit in third after they beat Peel Legion 3-2 in the west - John Kennish had a break of 30 as he overcame John Kelly, and the other wins came from Peter Glover and Matthew Dodd.
Peel's winners were Mike Crook and Geoff Hall, which keeps the early league leaders in fourth place after a slight mid-season dip in form.
Back in the capital, bottom side Douglas Snooker Club 'Wannabes' secured a valuable win away at the Finch Hill 'Young Guns'.
They went 2-0 up through Fred Corris and Steve Cowin, but the hosts levelled with wins for Dollin Mercer, who had a break of 22, and Nicola Young, before Dave Corris stole the decider potting brown to black to beat Chris Nash by two points.
Finch Hill 'Rockets' could only field four players away against Douglas Snooker Club 'Newbys', who won the fixture 3-2 - their winners were Jamie Wilson and Ste MacDonald, with Ron Grogan and Ken Kinrade keeping the 'Rockets' out of reach of the 'Wannabes' at the foot of the table.
Last but not least, it was another southern derby as Malew 1 hosted Port St Mary Legion in Ballasalla.
The visitors went ahead as Dave Pickersgill waltzed to a 65-8 win over Tom Collister, but Marc Morley was the only other winner for Port St Mary who otherwise failed to make up the handicap deficits - Tony Cubbon, Eric Drinkwater and Roy Gelling completed a good win for Malew 1.
In the individual standings, there was a rare defeat for top league individual James Kerr of St Olaves, who now finds himself on nine victories from 11 matches.
In joint-second are Nigel Kermode and Ste MacDonald, who are on nine wins from 12, followed by six players on eight wins apiece.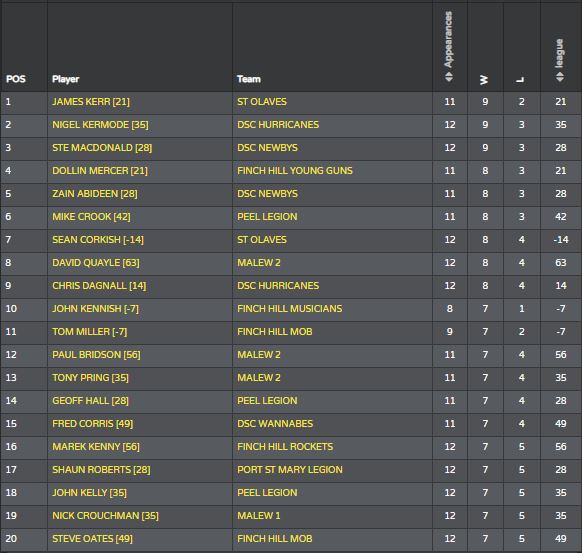 Tom Miller's top run of 43 puts him joint-top of the break league with Sean Corkish on 20.5 points, followed by Peter Kirkham, John Kennish and Jamie Wilson on 18, 16.5 and 15.5 points respectively.
To see the league in full, head to: https://iom2011.leaguerepublic.com.