Senior and Junior reports by clubs
Isle of Man Netball Reports
RESULTS
Date: Sunday 26 March 2023
Santander International Senior League
Championship
| | | |
| --- | --- | --- |
| Result | Player of the Match | Player of the Match Team |
| Suntera Global Ballasalla Cyclones 15 Young Farmers 32 | Nicci Cain | Young Farmers |
| Marbree Missfits 16 Simcocks Gold Eagles 40 | Aailish Kelly | Simcocks Gold Eagles |
| Castletown Celts 26 Route One Turbos 31 | Holly Charmer | Castletown Celts |
| Thompson 2 10 Manx Gems Saphhires 40 | Amaline Batty | Manx Gems Sapphires |
Junior League
Under 15's Division 1
Match

Player of

The Match

Player of the Match Team

Castletown Stars 29 v Simcocks Silver Eagles 9

June Fearnley

Umata Pugova

Castletown Stars

Simcocks Silver Eagles

Route One Sparks 18 v Ramsey Crimson 25

Izzie Burns

Alice Crellin

Route 1 Sparks

Ramsey Crimsons

Thompson Tigers 51 v Suntera Global Ballasalla 1 10

Amelie Harding

Ella Winstanley

Thompson Tigers

SG Ballasalla 1
Under 15's Division 2
Match

Player of

The Match

Player of the

Match Team

Suntera Global Ballasalla 2 41 v Manx Gems Opals 6

Holly McEvoy

Manx Gems Opals

Thompson Cats 22 v Castletown Rockets 12

Evie Cowell

Elizabeth Campbell

Thompson Cats

Castletown Rockets
Under 13's Division 1
Match

Player of

The Match

Player of the Match Team

Thompson Cubs 23 v Castletown Comets 5

Eve Steriopulous

Sienna Brookfield

Thompson Cubs

Castletown Comets

Simcocks Sea Eagles v Simcocks Black Eagles

Conceded by

Simcocks Sea Eagles

Manx Gems Jades 8 v Ramsey Flames 3

Gabe Campbell

Imogen Howard

Manx Gems

Ramsey Flames
Under 13's Division 2
Match

Player of

The Match

Player of the

Match Team

Manx Gems Ambers 6 v Castletown Galaxies 14

Anna Maria Kaddu

Faith Watterson

Manx Gems Ambers

Castletown Galaxies

Ramsey Twilights 16 v Castletown Planets 3

Emma Dorricott

Laura Faragher

Ramsey Twilights

Castletown Planets

Route One Amps v Thompson Bobtails

Conceded

Thompson Bobtails

Simcocks Golden Eagles 20 v Castletown Planets 1

Lisa Heunis

Ada Titley

Simcocks Golden Eagles

Castletown Planets
Senior Report
Championship
Simcocks Gold Eagles, 40 v Marbree Missfits,16
POTM Aailish Kelly for Simcocks Gold
This was both teams last match of the season with Marbree Missfits needing the win to have a chance of staying up in the Championship Division next season. With
Simcocks Gold only losing one match so far all season it was set to be a tough Match. Both teams took a while to settle into the game, however Simcocks great defence, Ella Page, Megan Howland and Lucy Faragher getting some key turnovers the first quarter ended 10-3 to Simcocks Gold.
The second quarter saw both teams come back onto the court strong. Mid court players for Marbree Missfits WA, Tara Murphy and C, Abi Robson worked well together to bring the ball through court for Christie Sayle and Emma Nicolson to convert with some great movement making it difficult for the Simcocks Gold defenders. However, some great interceptions from C, Ella Crowe allowed the balls to quickly be converted and brought up the court beautifully by WD, Rachel Craig and WA, Ella Page for Simcocks Golds shooters and at half time the score was extended further for Simcocks Golds to 21-7.
At the beginning of the second half, Marbree Missfits made some further changes bringing on Sophie Wade into shooting. Simcocks Gold continued to apply the pressure again converting the balls and bringing them down to shooters Helena Allen and Aailish Kelly who were converting these well albeit Marbree Missfits defenders Lisa Quilliam and Suzanne Gray were applyng great pressure in Simcocks Gold's circle not making it easy. Quarter three ended 33-12 to Simcocks Gold.
Going into the last quarter, Marbree Missfits were keen to apply further pressure to Simcocks Golds to try and achieve half points. After some fantastic defence and interceptions from Simcocks WD, Dionne Wall and GK, Megan Howland, Marbree Missfits attack were having to work harder to convert their centre passes.
Player of the Match, Aailish Kelly and GA Helena Allen had great movement in the circle and scored some fantastic shots even with the great defensive work applied from Marbree Missfits GK, Amy Kneale making it difficult.
Simcocks won the game 40-16.
Match Report - Junior League
Under 15's Division 1
Route One Sparks 18 v Ramsey Crimson 25
POTM Player of the Match for Ramsey was Alice Crellin (GA) and for Route 1 Izzie Burns (C).
The final U15 match of the season saw a strong start from Ramsey who turned over the Route 1 centre pass to score the first goal. Fluid attack long play and continued defensive pressure saw 4 unanswered goals scored with sharp shooting from Ramsey GS Aoibh Nash. Route 1 began to settle, scoring their first goal next but continued pressure from Ramsey saw a quarter time score of 10-3.
Some quarter time changes for Route 1 saw Izzie Burns move from WA to C which proved beneficial as she was able to get a number of tips from Ramsey passes. Route 1 fed shooter Poppy Bregazzi well, using her height to feed over the Ramsey defenders, whilst Ramsey GA Alice Crellin continued with her playmaking but also taking her share of the shots. The half time score was 16-8 in Ramsey's favour.
The third quarter was very even with both teams making errors for their opposition to capitalise on. Ramsey's defence of Holly O'Donnell (WD), Neve Madden (GD) and Imogen Taggart (GK) did well to collect loose balls in their third however defensive pressure from Route 1's Lois Kneen (GA), Lily Kemp (WA) and Izzie Burns (C) often saw the possession quickly regained again. Heading into the final quarter, Route 1 had pulled back a goal giving a score line of 20-13.
Switching MacieBelle Kneen from GD to GK added pressure to Ramsey GS Aoibh Nash with a tighter mark in the circle. Ramsey C Immy Duncan and WA Holly Salter had to be careful with their passing placement consequently whilst GA Alice took greater shooting responsibility. This quarter was slightly scrappier with both teams making errors and providing their opposition with opportunity to score. The quarter ended even at 5-5 with Ramsey securing a 25 - 18 win.
Under 15's Division 2
Thompson Cats 22 v Castletown Rockets 12
POTM Elizabeth Campbell (Castletown) Evie Cowell (Thompson)
Nerves were high from the start of this match for Rockets as they faced the top of the table, and very much in form, Cats. The first few goals of the game went to Cats following a very tentative start from Rockets who were struggling across the court against tall players. It took the Rockets a while to get their first goal but they did manage to pluck their way through. It was a harsh lesson in when
not to use an overhead ball. After what felt like a one sided first quarter the score ended 2-9.
The second quarter was like a completely different game and Rockets really started to show what they were made of. Rockets bagging the first goal of this quarter helped to lift their confidence. Defence was fierce throughout the court by both teams, and it was a very well fought period of play. In a reversal of fortunes Rockets took this quarter 5-1.
With the score now at 7-10 it was all to fight for. The third quarter was a bit slow to get started but Cats were the first to score after some well thought out and calm passing. The next goal went in for Rockets and we looked to be on for an exciting quarter. Both teams were very well matched throughout the whole court through most of this period but the Cats team height advantage proved invaluable and they started to pull away with scoring this quarter being 3-7.
The final quarter started with a score line of 10-17 so it was all still to play for. Cats managed to take 4 goals in quick succession which had the Rockets rattled but they kept fighting right to the end and the game finished 12-22. This was a really nice game to watch and both teams should be very proud of themselves with the ability and sportsmanship that was on display.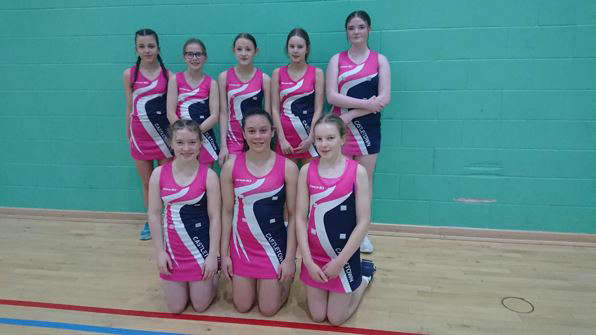 Castletown Rockets.
Under 13's Division 2
Ramsey Twilights 16 v Castletown Planets 3
POTM Castletown POTM - Laura Faragher
Ramsey POTM - Emma Dorricott
Unfortunately both teams only had six players today so there were no WD on court. All the girls adapted very well to this.
Q1 - 1-3: Ramsey took the first centre pass. They came out strong and showed some lovely movement through court with C - Emma Fox and WA - Amara Connon linking well together. Celia Dubbledam scored a lovely early goal for Planets.
Q2 - 2-7: In the second quarter Twilight's shooters Regan Leather and Olivia Johnson worked beautifully together, passing around the circle and scored goal after goal. Planets didn't give up and kept working hard. C- Iona Daly and WA Macy Cubbon found some lovely space through court and kept pressure over the ball.
Q3 - 0-4: Twilights defenders, Tilly Davies and Emma Dorricott were fantastic, they had so many interceptions and marked the Castletown players very well. Planets shooters Ellie Rowlands and Celia Dubbledam worked really hard and showed some lovely movement in the circle.
Q4 1-2: After already playing a full match before with no subs Castletown planets were tired, but in this last quarter they really showed their resilience and came out strong. Laura Faragher and Freya Eales had both grown in confidence throughout the match and defended their circle really well. Ramsey Twilights had a great lead from some fantastic play throughout the game. The final score was Ramsey Twilights 16 - Castletown Planets 3.
Judi Clark-Wilson Charity Cup Day
2nd April, 2023
9am, Division 2 - Atla Group Panthers v Castletown Jets
10am, Division 1 - Ramsey Black s v Suntera Global Ballasalla Drifts
11am, Championship - Simcocks Gold Eagles v Castletown Spaniards
12pm, Premiership - Simcocks Red Eagles v Suntera Global Ballasalla Blizzards