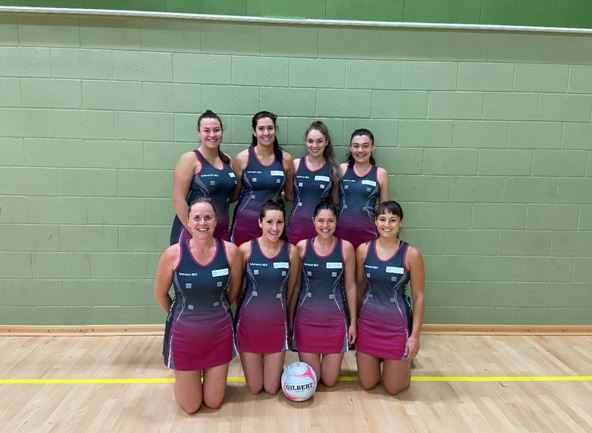 Strong start for Thompson 1 post-lockdown
Premier Division
| | | |
| --- | --- | --- |
| Result | Player of the Match | Player of the Match Team |
| Marbree Missfit A 43 Simcocks Gold Eagles 24 | Danielle Murphy | Marbree Missfits A |
| Brown Craine Toomraiders 14 Thompson Travel 1 35 | Lexa Hattersley | Thompson Travel 1 |
| Suntera Global Ballasalla Alpha 39 Suntera Global Ballasalla Bravo 29 | Jane Ryder – Clague | Suntera Global Ballasalla Alpha |
| Simcocks Red Eagles 47 Simcocks Blue Eagles 12 | Chloe Gale | SImcocks Red Eagles |
| Route 1 Connection 41 Manx Gems Rubies 18 | Nicole Spencer | Route 1 Connections |
Division 1
| | | |
| --- | --- | --- |
| Result | Player of the Match | Player of the Match Team |
| Thompson Travel 3 13 Suntera Global Ballasalla Charlie 39 | Gemma Collister | Suntera Global Ballasalla Charlie |
| Marbree Missfits B 27 Manx Gems Sapphires 32 | Alisha Fitzgerald | Manx Gems Sapphires |
| Castletown Spaniards 34 Young Farmers A 21 | Sarah Curphey | Castletown Spaniards |
| Simcocks Green Eagles 35 Thompson Travel 2 21 | Alice Hodgson – Cummins | Simcocks Green Eagles |
| Long & Humphrey Toomraiders 24 Route 1 Turbos 26 | Rebecca Lamb | Route 1 Turbos |
Division 2.
Result

Player of the Match

Player of the Match Team

Simcocks White Eagles 0 v Ramsey Black 40

(Conceded)

Manx Gems Emeralds 34 Ramsey Red 9

Tracey Gelling

Manx Gems Emeralds

Suntera Global Ballasalla Delta 8 Castletown Celts 30

Holly Charmer

Castletown Celts

Route 1 Volts 11 Simcocks Silver Eagles 27

Niamh Coole

Simcocks Silver Eagles

Young Farmers B 0 v Suntera Global Ballasalla Echo 40

(Conceded)
MATCH REPORTS
Premier Division
Suntera Global Ballasalla Alpha 39 v Suntera Global Ballasalla Bravo 29
POTM Jane Ryder Clague for Suntera Global Ballasalla Alpha
There was a certain sense of unease as the two teams took to court after the lengthy break: some worried about lack of fitness and others not looking forward to playing an intra club match. It promised to be a close game, only 4 goals separated the teams in their last encounter and the Bravos were keen to claim the win this time. Both sides got off to a good start matching each other goal for goal in the early stages. However, it was Suntera Ballasalla Bravos that found their rhythm first. Niamh Skillicorn and Emily Ashe made some good drives to receive the ball on the circle edge to feed the Bravo's shooting duo of Ashley Hall and Kate Tebay and at the end of the first quarter Bravos led 12-8.
Suntera Ballasalla Alphas entered the second quarter with the same line up and right from the whistle there were some great passages of play. Jane Ryder-Clague at Centre controlled the mid court for Alphas and was able to do some high feeds in to shooter Annabel Kneale who was holding her space against keeper Jess Ward brilliantly. Playing up for the Alphas for the first time, Rachel Hopkinson at Goal Attack worked hard in the end third to get the ball in to Kneale as well as finding space in the circle to put her shots up. The attack was fast and confident, and Natalie Wilson-Spratt worked hard around the circle edge to get the ball into the feeders. At half time the lead had changed with Alphas in front 21-18.
In previous games, the third quarter has been the Bravo's strongest, whilst the Alphas have often struggled to maintain a rhythm. The Bravo's defence of Clair Barks and Rachel Hudson began to double mark Kneale in the circle in an attempt to disrupt play, but Kneale and Hopkinson were working brilliantly and scored a number of unanswered goals. At the other end, Ciara Jacobs and Ella Carridge in defence for Alphas were making life difficult for the Bravo shooters and both got a number of two-handed interceptions. The Alphas were able to extend the lead even further with the scoreline 34-24 at three quarter time.
The final quarter saw Bravos make several changes. Hall moved to goal defence, Skillicorn switched to Centre and Mairi Harrison went into Goal Attack. These changes threw the Alphas and the rhythm that had been evident in the middle two quarters was lost. At the attacking end, Harrison's shooting was on fire, scoring a number of long-range shots, whilst Ashley Hall at Goal Defence meant that not only did she slow down the shooting rate, but she was able to come out on the fly to intercept balls as they switched across the circle. The final quarter was more evenly matched with both teams scoring 5 goals each, resulting in a final score of 39-29 to Alphas and with Jane Ryder-Clague being named as player of the match. It was a great game played in a lovely spirit, but most importantly it was nice to be back on court and playing netball!
Division 1
Long & Humphrey Toomraiders 24 v Route 1 Turbos 26
POTM Rebecca Lamb for Route 1 Turbos
Both teams came out strong for what was the first game following lockdown 3.0. The last game between these teams ended 44-27 to Route 1 but this game proved to be more evenly matched. Long & Humphrey Toomraiders took a slight lead at the end of the first quarter 9-6.
Long & Humphrey Toomraiders had a strong second quarter thanks to the defensive pressure and turnovers from Kerry Walker and Bethany Hall. Steady hands moving the ball through centre court from Emily Hall to Helen Gibson and onto Emma Qualtrough with superb shooting from Jess Edmonds and Courtney Russell helped them finish the second quarter 16-9.
Route 1, however, came back fighting in the third quarter, turning the pressure up on Long & Humphrey Toomraiders. Their defence was strong, with Holly Williamson coming on as GK and the team made the most of opportunities to turn over the ball. Combined with excellent shooting from Ella Page and Ella Webster and great movement from their centre court players, including player of the match Becky Lamb, the third quarter ended 19-18 to Long & Humphrey Toomraiders.
It was all to play for in the final quarter with just 1 goal in it. Both teams played well under pressure and it was 24-24 within the last few minutes of the match. Route 1 stayed strong and with a final turnover, took the lead and won the game 26-24. As a newer team this season, the improvements that Long & Humphrey Toomraiders have made are clear to see and show on the result. This was a great match after a break for both teams, well played!
Division 2
Route 1 Volts 11 v Simcocks Silver Eagles 27
POTM Niamh Coole for Simcocks Silver Eagles
The first quarter showed great play from both sides and Volts managed to maintain the fast pace, even though they only had 6 players on court. Olivia Quayle (GD) for Volts turned the ball over many times in the Simcocks circle with Holly Kelly (GK) having some fantastic interceptions. Simcocks Abbie Brammer (C) and Freya Debacher (WA) had some excellent passing down the court and worked well together with their movement and passing into their circle. Simcocks also displayed strong marking around the circle edge and marked each shot well. At the end of the first quarter Volts led 4 -3.
Simcocks came into the second quarter strong and there were some lovely short passes between the GA Hannah Skehan and GS Niamh Coole in the shooting circle. Once again, the Volts defence made Simcocks work hard to receive the pass into their circle. Volts managed to find space well, moving and offering plenty of opportunities for the ball to be moved down the court, with Bliss Murtagh (GA) and Emily Christian (GS) converting the shots, but the score for this quarter was 13 – 7 to Simcocks.
The start of this quarter began to show that Volts were one player short as Simcocks utilised their extra player well moving the ball quickly down the court. Volts continued to put the pressure on and had several interceptions in this quarter with Millie-Jo Purves (C) working tirelessly in centre court. The final score for this quarter was 20 – 8 to Simcocks.
The final quarter unfortunately saw Volts Bliss Murtagh (GA) injured, and a quick adjustment saw Kate Doran move to GA who made some great drives into the circle before shooting. However, the defence duo of Simcocks Rachel Craig (GK) and Mckenzie Pizzey (GD) kept the score line low for Volts with a final match score of 27 – 11 to Simcocks. This was a great game to watch and there was some fantastic play from both sides.