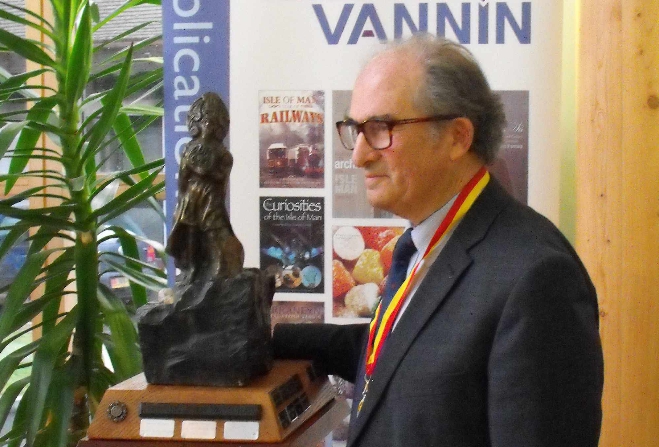 Aundyr-cultoor son eear-vriw
Ta Reih Bleeaney Vanannan er ny stowal er yn Eear-Vriw William Cain. She onnor cultooroil smoo Vannin, Reih Bleeaney Vanannan.
Hooar Mnr Cain yn aundyr son e obbyr arryltagh son freayltys as coadey bea-feie as çhymmyltaght Vannin.
Ren eh shirveish myr Caairliagh jeh Treisht Bea Feie Vannin son shey bleeaney jeig as feed, as eshyn ny oltey jeh Treisht Freayltys Nadoor Vannin, myr oltey hug y Treisht er bun ayns nuy cheead jeig, tree feed as tree-jeig. Ayns nuy cheead jeig, kiare feed as jeih, ghow eh ayrn mooar ayns cur er bun Slattys Bea Feie Vannin.
Chammah as gobbraghey son Treisht Bea Feie Vannin, ta Mnr Cain er hirveish myr Eaghtyrane Sheshaght Shennaghys Nadooragh as Shenndaght Vannin. As ren en ronsaght vunneydagh bentyn da shennaghys politickagh as bunraghtoil Vannin.
Gagh blein, ta Culture Vannin stowal Reih Bleeaney Vanannan er y pheiagh ny er y phossan ta'n ving-hess coontey dy vel ad er chur y toyrtys smoo da cultoor Manninagh.
Chammah as cummal y sthowran beg jeh Manannan son blein, ta Mnr Cain geddyn boyn argid as crooan, queig cheead punt t'eh cur da Sheshaght Shennaghys Nadooragh as Shenndaght Vannin, as queig cheead punt ny sodjey son cooish chultooroil Vanninagh t'eh reih - t'eh cur yn argid shoh da Treisht Bea Feie Vannin.

Culture award for former deemster
Former Deemster William Cain has been awarded the Isle of Man's top cultural honour - the Reih Bleeaney Vanannan, or Manannan's Choice of the Year.
Mr Cain received the award for his voluntary work for the conservation and protection of the wildlife and environment of the Isle of Man.
He served as Chairman of the Manx Wildlife Trust for 36 years, having been a founder member of the Manx Nature Conservation Trust in 1973 and he was a major force in establishing the Manx Wildlife Act in 1990.
In addition to his work for the Manx Wildlife Trust, Mr Cain has served as President of the Isle of Man Natural History and Antiquarian Society and carried out original research into the political and constitutional history of the Isle of Man.
The Reih Bleeaney Vanannan is an annual award made by Culture Vannin to the person or group who, in the opinion of the panel of assessors, has made the most outstanding contribution to Manx culture.
In addition to holding the trophy for a year, Mr Cain also receives a silver and enamel medal, £500 which he is donating to the IOM Natural History and Antiquarian Society and a further £500 for a Manx cultural cause of his choice which he's donating to the MWT.