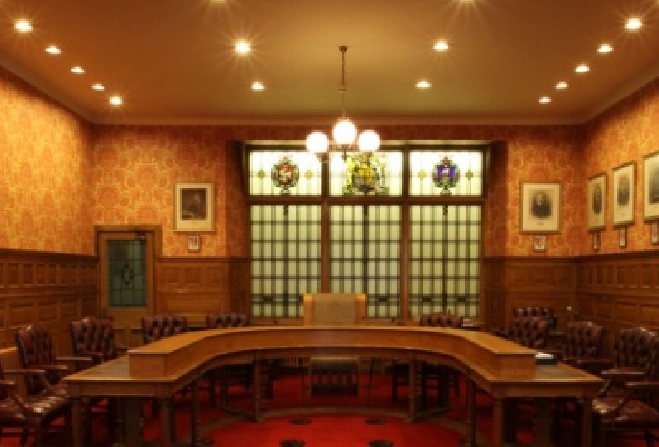 Lhiettrimys jeant liorish 'jaggad-chianglee' er reih olteynyn jeh'n Choonseil Slattyssagh
Ta Loayreyder yn Chiare as Feed gra dy re 'jaggad-chianglee' jeant liorish y leigh, y saase-votal dy phointeil Olteynyn jeh'n Choonseil Slattyssagh.
Va Steve Rodan loayrt ny lurg y failleil y çhiaghtin shoh chaie jeh'n eab jerrinagh dy reih daa oltey noa jeh'n Choonseil.
Roish shen, va Mnr Rodan er chur mygeayrt dy derragh eh y slane coarys-reih jeh'n Choonseil Slattyssagh harrish gys Bing ny Reillyn Beayn.
Dooyrt eh, ga va'n Kiare as Feed er nyannoo briwnys ry-cheilley nagh row ad laccal ny tree yeearreyderyn ec y traa t'ayn, cha row cooney ry-gheddyn veih ny reillyn-obbree, as begin scrutaghey yn reill dy begin da yeearreyderyn geddyn tree voteyn jeig er y chooid sloo, chammah as cooishyn elley.
Hed y nah vout dy votal er cummal y nah laa as feed Mean Souree.


LegCo voting hampered by 'straitjacket'
The Speaker of the House of Keys says the timetable it must follow in voting for Members of the Legislative Council is a 'straitjacket imposed by law'.
Steve Rodan was speaking after last week's latest attempt to elect two new members to the upper house failed.
Mr Rodan had earlier announced he'd refer the entire Legislative Council election process to the Standing Orders Committee.
He said whilst it was clear that the House had collectively decided they didn't want the three candidates on this occasion, the rules by which it must operate don't help, while issues such as candidates having to secure at least 13 votes must be examined.
The next round of voting will take place on June 22.