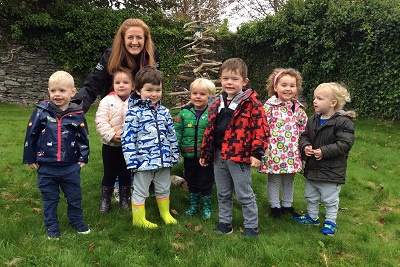 The children from MOOINJER VEGGEY School taught us how to say the name of some animals in Manx, led by teacher Adrienne Cowin. How many do you know? The children also give some excellent clues by imitating the animals in question!:
Tunnag:
Booa:
Moddhey: -
Keyrragh: -
Muc: -
While we were at the nursery, the children also sang the song "Moghrey mie, kys t'ou?" (which Beth and Christy also learned as one of their Moghrey Jedoonee Challenges in 2019!) You can find the words below if you'd like to sing along:
Moghrey mie, kys t'ou? Ta mee braew, dooys dty laue! (repeat)
The words mean: Good morning, how are you? I am fine, here's my hand.
You can learn even more animal words in Manx on the Learn Manx Page here. And if you would like to recommend a school, youth group (or grown-up group!) to feature in our Manx Words of the Day series, email latelunch@manxradio.com, we'd love to hear from you.