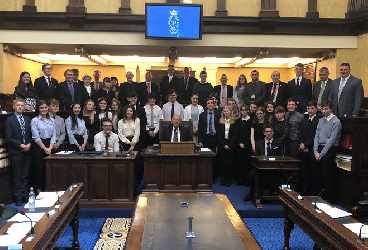 This Sunday, Perspective will be broadcasting Junior Tynwald, which took place on Monday.
Year 12 students from five of the Island's secondary schools took part in the initiative during which there was a Tynwald sitting which included question time and two motions.
Questions asked focussed on topics which have been prevalent recently. These included ones on the refugee crisis, environmental issues and mental health.
The two schools who moved motions were Ballakermeen High School and Castle Rushen High School.
The motion from Ballakermeen High School read: "That Junior Tynwald is of the opinion that oil and gas exploration in Manx waters is likely to be detrimental to the environment and should be stopped".
Castle Rushen High School moved: "That Junior Tynwald is of the opinion that greater use should be made of referendums to enhance the democratic process".
Not only did students take the positions of politicians, but some chose to be journalists working with Manx Radio and Isle of Man Newspapers. During the programme, we'll hear the interviews conducted by those young people who took seats on the Manx Radio bench.
That's between 12 and 2 this Sunday, 21st July. Contribute your thoughts by using the hashtag #MRPerspective on social media.
Manx Radio News' article following the sitting can be read here.
The programme will be available as a podcast shortly after broadcast.