On the programme this week, we'll be joined by stars of the Manx Operatic Society's production of Les Mis and The Manx Legion Players bring Willie Russell's 'One for the Road' to the Peel Centenary Centre.
If there's anything creative you'd like to contribute to the programme you can email Spotlight@manxradio.com and if you miss anything today, listen again or subscribe to the show as a podcast via iTunes, Google & Spotify.
'One for the Road' is coming to the Peel Centenary Centre at the end of next week, courtesy of the Manx Legion Players. The play is being directed by Lindsey Quayle and stars Neil King as one of the show's four main characters.
The Manx Operatic Society's run of Les Miserables begins at the beginning of next month and stars many familiar performers including Alex Toohey as Jean Val Jean and David Artus as Javert, they join us along with director Jeremy Tustin - all of whom took part in the show the last time we saw it on the Gaiety Theatre Stage back in 2009. David and Alex have both taken on different roles for this version of the production and I asked them how it felt to be back in Victor Hugo's 1860's France.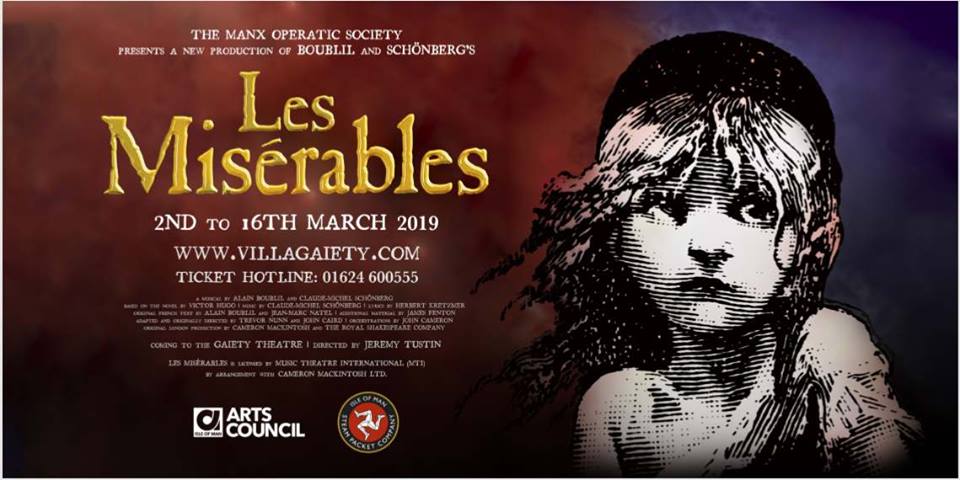 Every song in this show is a hit but that there was Alfie Boe singing 'Bring Him Home', and if you enjoyed that, you can add two things to your list, firstly, tickets to see Les Mis at the Gaiety over the first couple of weeks in March and secondly, to get in the queue for tickets to see Alfie Boe himself at the Villa Marina later this year - tickets for which go on sale tomorrow morning at 10am.
I'll be back next Wednesday so do join me at 5:30pm, in the meantime, get yourself subscribed to the series via iTunes, Google or Spotify for your weekly dose of creativity, delivered straight to your library. Have a lovely, creative week!