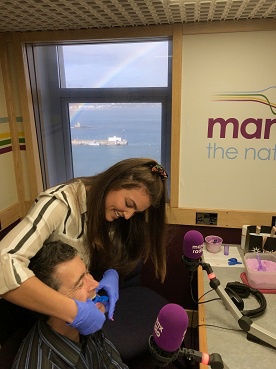 On the programme today:
we were joined in the studio by Mark Hepworth from Abbey Dental for our monthly check up - and this month, we actually did have a check up, live in the studio! Mark brought his dental nurse Kesha with him and they brought some props; Kesha made up an impression kit live in the studio and created an impression of Mark's teeth (pictured), while Mark later demonstrated an actual check up on Christy, to show how quick and painless they are.
Mark also explained all about the root canal process and answered various questions for us about dentistry. If you want to know about Abbey Dental, you can check them out online at their website: http://www.abbeydental.info/ or you can call them on 823040
Beth also spoke on the phone with Joanne Steel, who is is known in the business as "The ultimate Tribute" to the Princess of Pop Kylie Minogue. Joanne is bringing her Kylie tribute act to the Peel Centenary Centre on Saturday March 23rd, tickets are £16 and the event is a fundraiser for Breast Cancer Now Isle of Man branch. All details here.
If you missed any part of today's programme, you can listen again at this link for the next 7 days.
Tomorrow, Beth and Howard will be live from the University College Isle of Man for the Skills Test. Join us from 2pm!