To download & subscribe for free to podcasts of the Government COVID Media Briefings click here.
---------------------------------------------------------------------------------------------------
Everyone is being encouraged to wash your hands properly and regularly: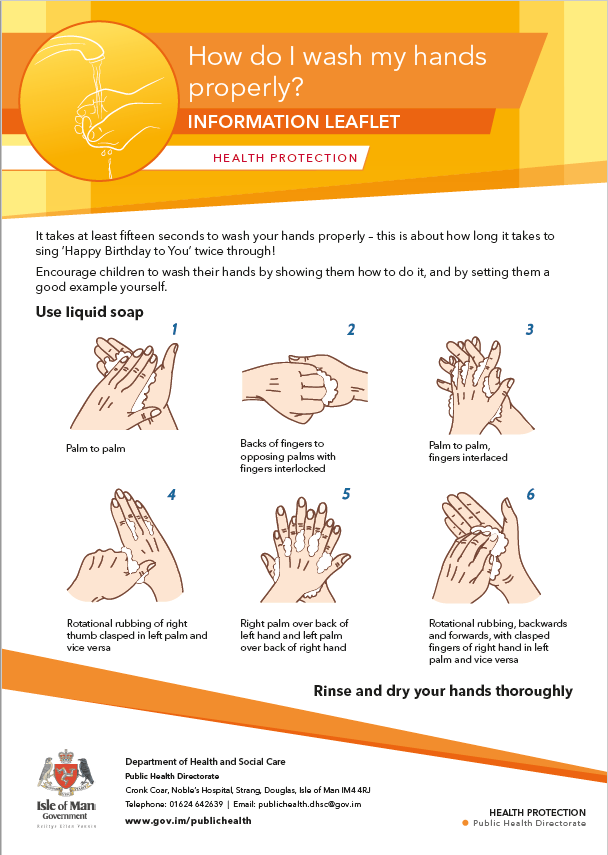 T here is further information and updates available via the Public Health Isle of Man Facebook Page:
The Coronavirus pandemic is understandably causing a lot of stress and anxiety at the moment. If you're experiencing any difficulties, the following local and UK services are here to support you.
For assistance in an emergency, call 999
Childline
www.childline.org.uk
0800 1111
A private and confidential service for children and young people up to the age of 19.
Samaritans
www.samaritans.org
116 123
Whatever you're going through, a Samaritan will face it with you. We're here 24 hours a day, 365 days a year.
NHSN
www.nshn.co.uk
Supporting and providing information to individuals who self-harm, to reduce emotional distress and to improve their quality of life.
Self Harm UK
www.selfharm.co.uk
A project dedicated to supporting young people impacted by self-harm, providing a safe space to talk, ask any questions and be honest about what's going on in the your life.
Beat
www.beateatingdisorders.org.uk
08088010677
Helpline and one-to-one web-chat service supporting people who have or are worried they have an eating disorder, as well as others affected, such as friends and family members.
Young Minds
www.youngminds.org.uk
Parents Helpline 08088025544
Crisis Messenger text YM to 85258
A UK charity which is committed to improving the emotional wellbeing and mental health of children and young people.
Mind UK
www.mind.org.uk
0208 215 2243
Mind offers information and advice to people with mental health problems.
REACH IOM
www.facebook.com/reachiom
07624247681
Information and support charity for people dealing with mental health issues. Regular free podcast discussions at manxradio.com
Isle Listen
www.islelisten.im
Aims to equip children and young people with the self-management skills needed to navigate the psychological and emotional challenges of 21st century life.
Live at Home Befriending Scheme
08081624604
Guidance and support for anyone feeling isolated or anxious.
Crossroads Isle of Man
www.crossroadsiom.org
673103
Crossroads runs a range of services to meet the needs of all carers. We support all ages, disabilities, illnesses and care needs.
APPS
Calm Harm
Provides tasks to help you resist or manage the urge to self harm
SAM
Self-help resource to help manage anxiety
Clear Fear
Assists in calming fear responses and managing anxious thoughts, emotions and behaviours
Smiling Mind
Mindfulness meditation app to help you deal with daily stresses and bring balance to your life
Combined Minds
Helps friends and families to support young people in managing mental health challenges using a 'strength based' approach