Mayor of Douglas Jonathan Joughin
Councillor will continue in the role until 2020
The only mayor on the Isle of Man says he'd fight 'tooth and nail' to ensure the role is kept, and insists it provides 'very good value' for the people of Douglas.
Jonathan Joughin was selected by councillors to continue for a second year in office, at a meeting held last week (29 March).
He says it's an honour to be invited to carry on for another term, and believes he'll have his work cut out to eclipse last year's charitable work.
Now retired, Mr Joughin worked in the Island's postal service for 40 years, has served as a councillor for five years, and was briefly an MHK for Douglas East.
He was first elected mayor in 2018.
Local Democracy Reporter Ewan Gawne asked Mr Joughin what it meant to him to serve a second term in office:
What does the Mayor do?
A non-political position, the Mayor of Douglas is required to chair meetings of the Council, represent the borough at events, and to entertain dignitaries.
Fundraising work also forms a major part of the role, with the mayor's charity fund this year supporting SSAFA Isle of Man, the Rotary Club of Douglas, and Special Olympics Isle of Man.
Proceeds from events like the Mayor's Ball, which raised £5,000, all go towards topping up this fund.
Douglas Council has budgeted around £100,000 annually over the last two years for the office of mayor. That's changed to £65,820 for the year 2019-20 due to a change in accounting practices by the council.
You can see the budgeted amounts in the table below, taken from the council's 2019-2020 budget estimates:
A breakdown of the Mayoralty's costs can also be found in the document: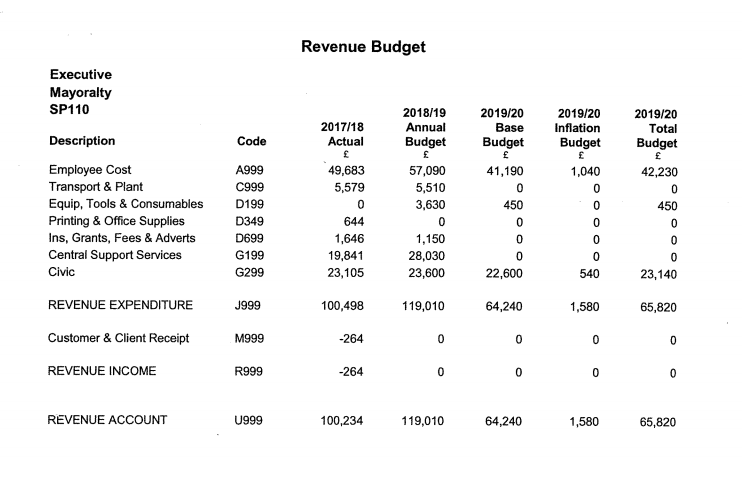 Mr Joughin says his monthly allowance is 'probably below minimum wage' and the work is 'demanding'.
On the question of whether the role gives ratepayers value for money, he says it does, and that it's important the position is retained.
Why does Douglas have a Mayor?
Douglas is the only local authority to have a mayor, and has seen 86 men and women serve in the role since it was established in 1896.
The capital became a municipal borough that year, following the Douglas Municipal Corporation Act of 1895, which replaced the town commissioners with councillors, aldermen and a mayor.
The change was ushered in due to the high percentage of the Manx population living in the town, which placed 'additional demands' on the local authority.
Alderman Thomas Keig, a pioneer in the field of photography on the Island, was the first mayor of Douglas.