Dan Richardson (second right) and Phil Craine (right) and friends at the cabin
Dan Richardson has lived off-grid for almost two years
A man, whose cabin in the woods was nominated for a Biosphere award, is being taken to court by the Department of Environment, Food and Agriculture for trespass.

For almost two years, Dan Richardson has been living off-grid in his home on the corner of a field below Ramsey Forest, which he built for himself with the help of locals in the area.

Despite receiving praise from Environment Minister Geoffrey Boot for his sustainable lifestyle at this year's UNESCO Biosphere Awards, the department now disputes his occupancy of the land, as Mr Richardson explained to Aaron Ibanez:


DEFA has begun legal proceedings after Mr Richardson's refusal to move, following a number visits from the countryside ranger who served him with a notice for eviction.

It's understood the small woodland holding which he occupies above Crossags Campsite, encroaches three metres onto the department's estate.

Before Mr Richardson started work, Land Registry was unable to confirm the identity of the plot's rightful owner, but the department has since determined its own boundary in the area.
A spokesperson from the Department of Environment, Food and Agriculture said: "This area of land is owned by the government and no consent or planning permission has been sought for the structure, and the occupant has no permission to be there."

Phil Craine, a friend, says the cabin is 'a concrete example of sustainability in action':


In 2004, he carried out 50 hours of community service at the neighbouring camping ground after bringing a red squirrel - deemed an invasive species in Manx law - to the Island.

During his 15 years of living in the area, Mr Richardson has tidied up the 'junk' which he says was dumped on the land, a task he continues to this day.

Along with repairing fences and planting native trees with the Manx Wildlife Trust, he claims to have filled four skips worth of scrap metal in the last two years, after clearing a stream which flows from within the glen.

On Tynwald Day this year, he presented a petition inspired by a law in Wales which supports a scheme known as 'One Planet Development'.
It asked the Manx government to consider allowing the building of low impact homes of near-zero carbon emissions in the countryside, so long as the occupant is self-sufficient in food, energy and income.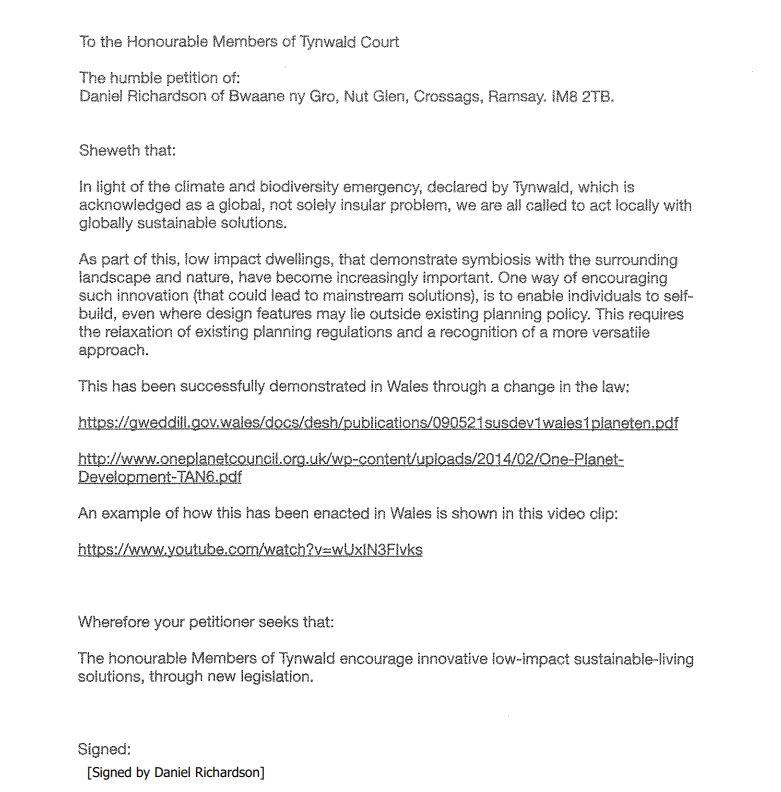 As yet, the petition has not been picked up by a member of Tynwald.
Mr Richardson will appear before the Civil Summary Court on Monday, 25 November, over a charge of trespass, for which faces a maximum fine of £500 if found guilty.
Aaron asked Mr Richardson how he felt about Monday: