Treasury Minister Alf Cannan MHK
Benefit reduced to £100 per week from today
Those who've lost their jobs as a result of the coronavirus pandemic will have their benefit payments cut from today.
The Manx Earnings Replacement Allowance, or MERA, is being halved from £200 to £100 for those who've been laid off, made redundant or lost their self-employed work since March.
The changes were announced in Treasury Minister Alf Cannan's budget update last month.
The amount of money you can earn in a week and still qualify for MERA is also increasing from today.
Anyone taking home more than £150 per week from today won't be able to claim the payment. The threshold previously stood at £50.
The £100 payment will continue to be available until 20 September, when anyone still in need of support will have to seek other benefits, such as jobseeker's allowance.
The reduction in MERA payments could mean more Manx residents have to start looking for work. That's according to Island-based recruitment agency Search & Select, which has seen an increase in demand for work since the start of the coronavirus lockdown.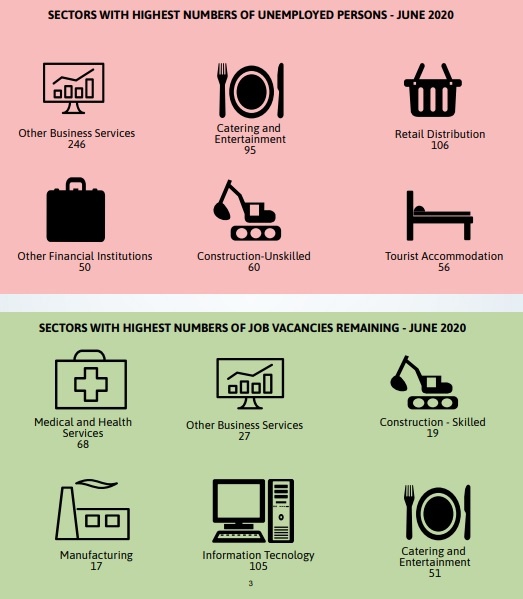 Unemployment more than tripled in one month following the start of coronavirus outbreak, and still stands at more than 1,100 according to the latest figures released by the Isle of Man Government.
Search & Select managing director Sally Fenton says the recruiter is expecting to see an increase in job seekers:
You can listen to Ms Fenton's full interview with Manx Radio's Sian Cowper below:
Meanwhile, local companies are working out whether they'll need to make staff cuts and adapt their business once the government's support schemes start to be withdrawn.
That's according to the Isle of Man Chamber of Commerce after the Treasury's recent budget update confirmed some financial packages would be phased out by September.
Some sectors have already been excluded from the salary support scheme, such as agriculture, construction and wholesale distribution, while travel and tourism will be the only areas to continue receiving support after 17 August.
The chamber's president Caren Pegg says work is underway to figure out how the changes will impact local firms:
You can hear more from Ms Pegg below: