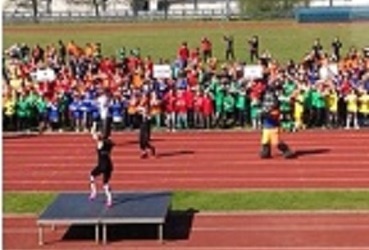 Around 1000 youngsters from across the Isle of Man have been taking part in the 14th Manx Youth Games today (Saturday, May 16th).
They gathered in front of the stadium grandstand for a grand opening ceremony at the National Sports Centre in Douglas.
Parents and dignitaries watched children representing five regions march in and take part in an aerobics warm-up, before education minister Tim Crookall declared the 2015 event open.
Children from primary and secondary schools have been taking part in weekly training sessions in 11 sports, ranging from outdoor bowls and badminton, to tag rugby and table tennis.
Health minister Howard Quayle said the event showed politicians how important the role of sport is to the community at large: