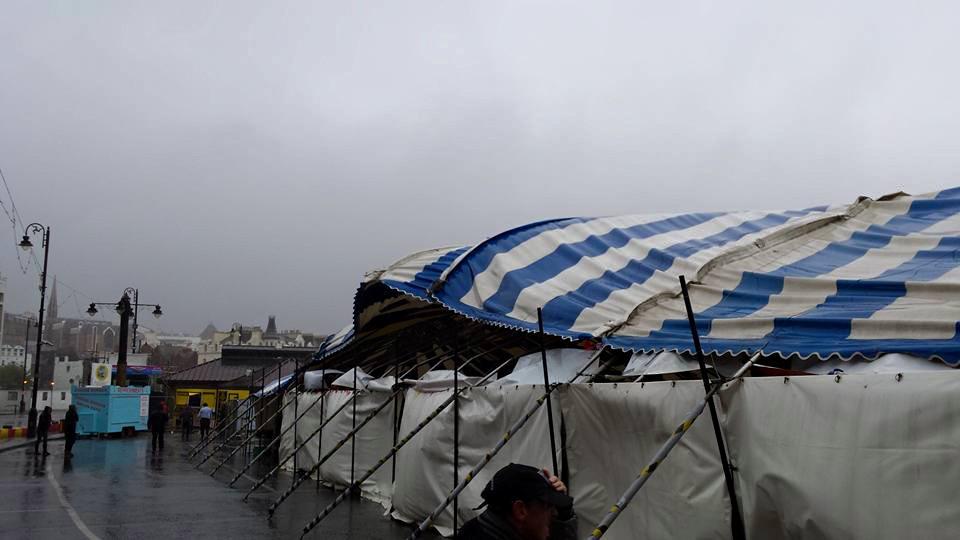 Bushy's Beer Tent (picture by Brian Duffy)
Beer Tent damaged in record June winds
The severe weather has wreaked havoc on the Island's roads.
The Met Office says it recorded the strongest ever wind in June at Ronaldsway, at 58 mph - on the first day of the month.
Wind speeds over higher ground are said to have reached 80 mph.
The Mountain Road is closed until 7.30am tomorrow (Tuesday 2 June) at the earliest.
Peveril Road in Peel has been closed due to the risk from the petrol station canopy that has become precarious - police say the road will remain closed until at least 8am.
Campers arriving on the Island had good reason to be daunted by the weather:
We survived the storm! Tent still up, bikes still up! Sky all clear now! #iomtt2015 pic.twitter.com/OQFm8u5Sf6

— SuperbikeDawsie (@NC24Dawsie) June 1, 2015
To quote Pc163 "grim at the hairpin". Take care in the roads especially in the current weather. #DriveSafeIOM pic.twitter.com/tLFyMeCaky

— Roads Policing Unit (@IOMRPU) June 1, 2015
As the rain worsened, a number of social media groups sprang up to offer help from residents, with one Twitter hashtag campaign quickly catching on:
Earlier, trees blew down on the TT course at Ballacraine, damaging traffic lights at the busy junction, as well as at the Ginger Hall, and Glen Auldyn.
Big thanks to Marlow Construction for help with machinery & chainsaws #wonderfulIOM pic.twitter.com/Ie8v7Sqlkq

— TweetbeatIOM (@TweetbeatIOM) June 1, 2015
And the response from the public and the Island's emergency services proved a hit both on and off-Island.
Civil Defence patrolling campsites for stranded campers. Thanks to all who have volunteered accommodation just in case. #TumbleDryerAidIOM

— Juan Watterson (@juanwatterson) June 1, 2015
Reading whats going on at #iomtt & amazing generosity of the locals + hard work from @TweetbeatIOM & other emergency services is humbling

— Gary - The Smidsy ® (@TheSmidsy) June 1, 2015
Meanwhile, overhead cables were blown down on the Poortown Road near Peel and the Manx Electricity Authority said it had a number of reports of areas without power.
It urged people to contact it if they discovered their power is out: you can contact them on 687687
We are getting reports from various areas of the island from customers without electricity. If you have no power... http://t.co/huXSGJCRkK

— Manx Utilities (@manx_utilities) June 1, 2015
Race equipment such as hay bales and signs were damaged or moved at The Raven in Ballaugh and at Church Bends on the Billown Circuit. Also badly hit was the TT paddock.
TT paddock is in tatters. #weather pic.twitter.com/JaFNzfuhYv

— Steve Mercer (@steve_mercer) June 1, 2015
Both the Manx Electric Railway and Snaefell Mountain Railway curtailed services, bringing forward last tram departures from Douglas and Ramsey.
Within a few hours, the worst was over.
Stunning post storm skies in #Castletown #iom pic.twitter.com/v8kXQCMzXj

— CC Gary Roberts (@CCGaryRoberts) June 1, 2015
There was some good news for bikers and locals, however - despite being damaged and closed during the storm, Martin Brunnschweiler of Bushy's Brewery said the Beer Tent on the Bottleneck Car Park would reopen on Tuesday afternoon.
Tuesday's forecast predicts some outbreaks of rain early in the morning, then mostly dry in the afternoon with some sunshine and maybe a scattered shower later on.
Hopefully that's the rain done with for the rest of the #TT period. Lots of debris and standing water on the roads still. #DriveSafeIOM

— Dave Dobbie (@InspDaveDobbie) June 1, 2015