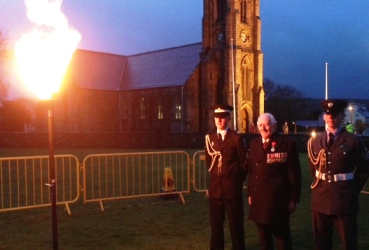 The Island has remembered its part in a momentous day in British history.
Seventy years since the end of the Second World War in Europe, the landmark anniversary has been marked in the Isle of Man and across Europe, including a service of remembrance at the Cenotaph in London.
Tonight (Friday, May 8th), more than 200 beacons were lit across Britain in commemoration.
D-Day veteran Hector Duff lit a beacon in a special ceremony at the War Memorial at St John's.
Ninety-five year old Mr Duff from Onchan took part in the Normandy campaign which led to the Allied Victory in Europe.
Ellan Vannin pipers heralded the start of proceedings before a parade of standards, a bugler salute and tribute by Mr Duff.
Speaker of the Keys Steve Rodan, president of the Island's Royal British Legion, also delivered the exhortation.

Picture: Hector Duff flanked by cadets Robbie Brown and Stephen Isherwood.