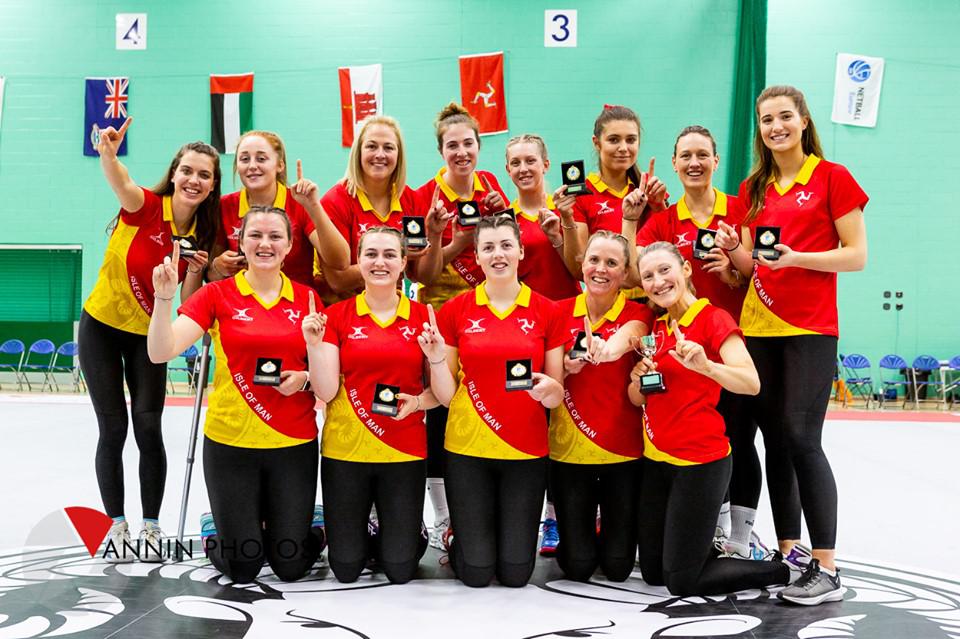 The victorious Isle of Man squad (Photo: Gary Weightman / Vannin Photos)
Victory over Republic of Ireland seals title
The Isle of Man were crowned winners of the Netball Europe Open Championship at the NSC yesterday, in front of an ecstatic crowd.
The Island team needed to win their final match of the round robin tournament, after Gibraltar beat the United Arab Emirates 54-33.
The Manx Rams rose to the challenge, beating defending champions Ireland 57-45 to secure the title.
The third quarter proved to be the key period of the match for the Island, as they outscored their opponents by 18 points to 10, overturning a narrow half-time deficit to lead 41-34 by the end of it.
In all the Manx Rams won five of their six matches, with their only loss coming against UK Armed Forces.
Captain Ashley Hall said: "I cannot believe it. I'm just so proud of this remarkable team."
Victory means the Island will obtain their first world ranking in June.
Hall added: "We believed we could do it and we wanted to repay the fans who came out to support us this week - I think we definitely did that."
Assistant Manager Rhian Evans said the entire squad had been "phenomenal".
She continued: "To take our first gold in our first ever international netball tournament as hosts and to gain our first world weekend is amazing.
"I am so proud of this group of powerhouse women.
"Thank you to everyone who generously dedicated their time to help us achieve our dream and put the Isle of Man on the map with an unforgettable bang.
"This is a win for every Manx netballer and this is just the beginning."