Dollin Mercer now leads the individual rankings
Malew 2 displaced at the top of the table
Finch Hill 'Mob' took the lead in the 2018/19 Macs Builders Merchants snooker league, after a whitewash victory away against the Douglas Snooker Club 'Wannabes' in week 15 of the competition.
There were breaks of 43 for Tom Miller, 36 for Peter Crellin and 30 for Peter Kirkham in their frame wins, as well as victories for Steve Finnegan and Miles Sherman.
That result sees them displace Malew 2 at the top of the standings.
There were two whitewashes this week, though, with another 5-0 victory coming from Finch Hill 'Young Guns'.
Darryl Hill set the tone with breaks of 40 and 21, and there were also wins for Nick Stephens, Paul Tangeman, Calum Gardner and Dollin Mercer away at Malew 1.
At Finch Hill, the 'Musicians' ran out 4-1 winners against St Olaves, with breaks of 24 and 20 for John Kennish.
Peter Glover, James Hynes and Lee Hunt were the other winners for the home outfit – Dan Crawley got the solitary point for the guests with breaks of 33 and 21 against Matthew Dodd.
On the adjacent table, Finch Hill 'Rockets' also enjoyed a 4-1 victory against Malew 2, with wins coming from 'Rocket' Ron Grogan, Marek Kenny, Graham Ashton and Matt Radley.
Paddy Delaney failed to complete a third whitewash of the night, though, beaten by David Quayle in the fifth frame.
In the south, Port St Mary Legion grabbed a 3-2 win against the Douglas Snooker Club 'Hurricanes', with Dave Pickersgill, Shaun Roberts and Marc Morley on target for the hosts.
Chris Dagnall continued his impressive individual season record with a frame win and 32 break, with Steve Munk the other winner for the 'Hurricanes'.
Finally, back at Douglas Snooker Club, the 'Newbys' got off to a good start with Jamie Wilson scoring a run of 23 en route to his frame win, but Peel Legion won the next three through Don Humphries, Geoff Hall and Kyle Darby.
Zain Abideen won the fifth, to make it 3-2 to Peel.
Dollin Mercer now leads the individual standings, on eleven wins from fourteen frames, with James Kerr and Nigel Kermode in joint-second on eleven from fifteen: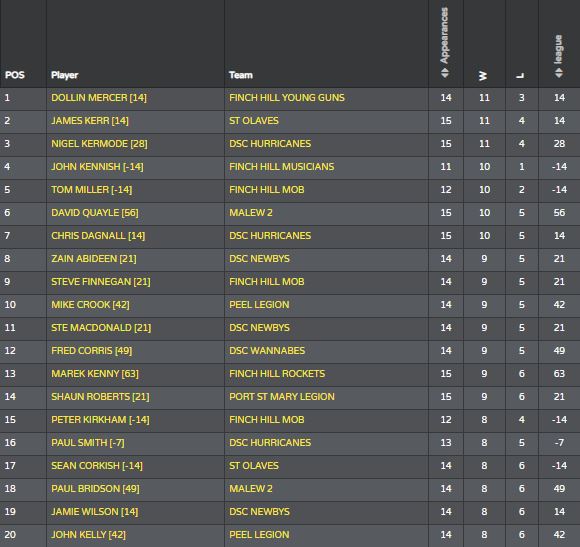 To see the league in full, head to: https://iom2011.leaguerepublic.com.