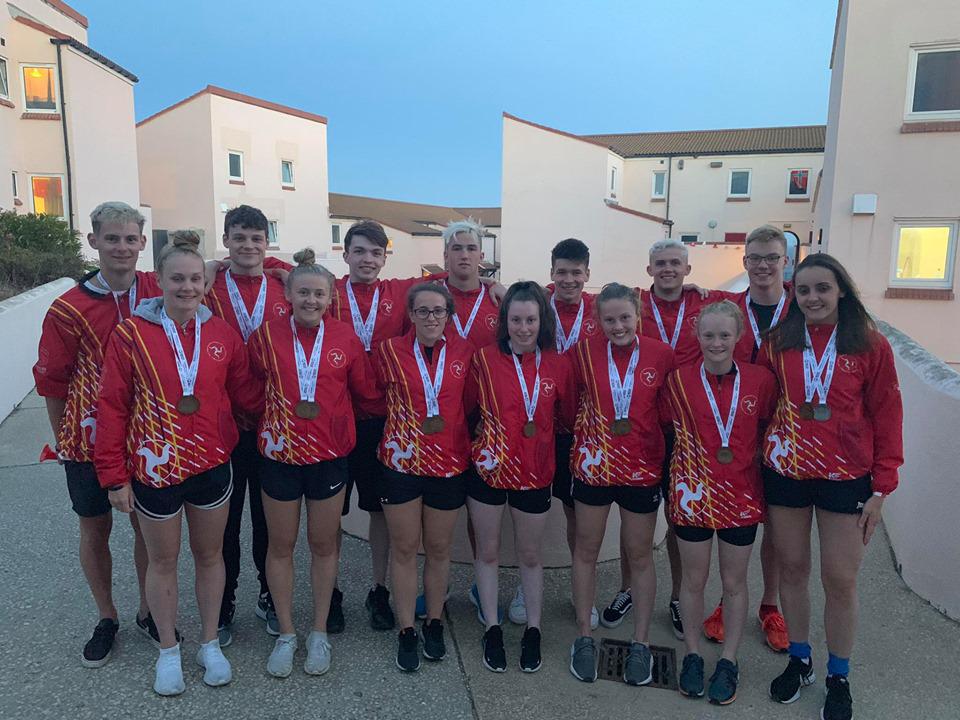 Swimming team coach Lee Holland posted this photo on Facebook, saying he was delighted every member of the team already has a gold medal
Seven golds added in two sports on Tuesday
The Isle of Man moved to the top of the overall medal table for the 2019 Island Games on Tuesday evening, thanks largely to the efforts of the swimmers and cyclists.
Six medals were added by the Island's swimmers, with Alex Bregazzi and Olivia Marshall among the gold medal winners in the 200m freestyle and 50m butterfly, respectively.
There were also honours for the men's 4x50m freestyle team and the women's 4x50m medley team, while Laura Kinley scooped her second silver of the Games and Emma Hodgson got on the podium in the women's 100m backstroke.
In the cycling, Team IOM put in a strong showing on what was an extremely tough time trial course to seal three more gold medals and a bronze.
Becky Storrie took the plaudits in the women's individual race in a time of 46:10:91, on a route which involved a steep climb up to the top of the Rock of Gibraltar after a 16km ride along the eastern coast.
There was a bronze medal for young rider Adam Scarffe and both the men's and women's teams scooped the highest honours on a hugely successful day which moved the Isle of Man on to a total of 35 medals.
Having amassed 16 golds - more than any other island currently - they sit pretty at the top of the overall table, one clear of Jersey in second and two ahead of third-placed Faroe Islands.
Speaking immediately after discovering she'd won the race, Becky Storrie told Manx Radio Sport it was a huge mental battle to power on through to the finish: