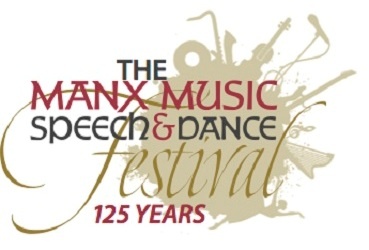 Our coverage of The Guild is available for you to listen On Demand, but, so you can find exactly what you want to hear, check our daily blog to find out which performances were broadcast. This is what you can enjoy if you listen On Demand to:

TODAY AT THE GUILD - 9pm to 10pm - Monday 24th April
Ramsey Town Band - Conducted by Mr Robert Quane - March - The Diplomat.
Hannah Clinton - winner of Vocal Solo class, singing 'It was a lover and his lass' by Madeline Dring.
Manx Concert Brass - Conducted by I.J.G. Clague MBE - playing American Trilogy - part of their class-winning performance in the Brass Band Concert class.They were awarded 92 marks.
Breesha Kelsey - winner of the Girls Solo song class with 89 marks.
Zac Colligon - winner of the Boys Treble Solo song class with 86 marks.
Manx Youth Band - Londonderry Air - featuring Sammy Clague who was chosen to receive the George Ridgeway trophy for Best Soloist.
Hazel Stewart, winner of the General Vocal Solo class with 87 marks. Hazel is singing 'Make A Joyful Noise Unto The Lord'.
Castletown Metropolitan Silver Band with the March of the Torreadors from their Brass Band concert class. Castletown MSB also received a new award - The Gordon Kennaugh Astill Trophy for the Most Entertaining Performance (not necessarily the class winners). The trophy has been kindly presented by Mrs Sheila Astill in memory of her husband who was for many years the Conductor of Onchan Silver Band.
Some fine piano playing from class winners:
Jared Shepherd
Amy Bloch
Polly and Anna Glynn
Musicale singing Mack The Knife - one of the songs from their winning performance in the Choir Concert Class. For this competition they were conducted by choir member Mrs Judy Cross. Their accompanist is Mrs Jennifer Bird and they were awarded 89 marks.
Toby Crossley - playing piano from memory. Toby's chosen piece is Arirang by Christopher Norton and he won the class with 89 marks.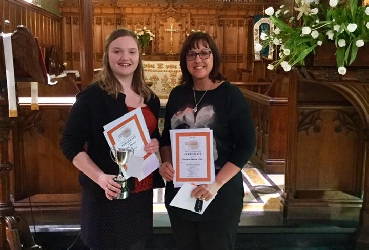 Hazel Stewart and Caroline Cain pictured after the Adult General Vocal Solo Class on Sunday - picture from the Manx Music Festival Facebook page.

Visit Live and Local to listen back to the programme in full.