#MRWomenToday listen again: Manx Art roundup; binning kids artwork; Rushen Players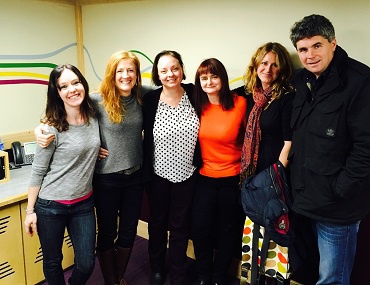 On the programme today: -
- we started off with an update of the day's various weather disruptions, from road closures to sports, as Tim 'Storm Boy' Glover joined us from the newsroom to give us all the latest;
- we were joined in the studio by some of the cast of the Rushen Players latest production 'The Perfect Murder'; Ged Power, Maire Stephens and first time actor Nicky Kinley stopped by to tell us all about the intriguing play, described as ' A NIGHT FOR EVERYONE, WITH HORROR, INTRIGUE, MYSTERY AND YET PLENTY OF COMEDY' by the British Theatre Guide. Starting tomorrow (23rd November), it also runs on Friday and Saturday night. You can see a trailer for the production on YouTube here, and contact the Erin Arts Centre Box Office on 835858 for tickets (there aren't many left so be quick!), and be sure to follow the Players on Facebook for further information about upcoming productions.
- also today, it seems some parents are harbouring a guilty secret...more than half of us are consigning our children's artistic creations to the bin! So we asked you to 'fess up and tell us what you do with your children's creative endeavours - do they go on the fridge? clutter up the kitchen? or get secreted into the wheelie bin??
- as BIC has been doing some research about this topic, Beth spoke with co-founder of Mumsnet Carrie Longton and Nathan Woodhead who's a Creative Director who has devised campaigns for numerous brands and organisations and who wasn't very sympathetic to Beth's plight.....
- and continuing the art theme, we were joined in the studio by Jane Hall from the Manx Art Directory, who gave us the monthly round up of the super busy Island arts scene. You can find out about all of the exhibitions, workshops, events and competitions that Jane was talking about over on her website; she is also currently running a superb competition on her Facebook page whereby you could win yourself a unique ceramic sculpture by Vici Blackburn (picture below) - click here to find out how
If you missed the programme, you can listen back again for the next 7 days at this link.