#MRWomenToday listen again: The cast of Arcadia and what would you struggle to live without.....
On #MRWomenToday this Wednesday afternoon we spoke to Ray Lakeman as it approaches the third anniversary of the death of both of his sons. He talked about the importance of keeping their memory alive, his desire for a change to drug laws and about the evening of music and fun taking place this Friday in remembrance of Jacques and Torin. It's at the Falcon's Nest in Port Erin starting at 7:30pm and all proceeds will go to the town's new skatepark.
Also today we found out about the latest production being put on by the Service Players . Tom Stoppard's Arcadia opens at the Erin Arts Centre next Wednesday (December 6th) and runs for three nights. Its Director Mike Hoy MBE joined us along with three cast members (technically four since Beth is in it as well). Karl Bovenizer, Lisa Creighton and Howard Caine told us how rehearsals had been going and explained why this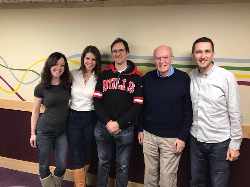 play with a twist is for everyone. Find out more here.
We also spoke with the hugely talented Manx classical and Celtic singer from the Isle of Man Kate Dowman about her new album inspired by Manx Gaelic folksongs and we asked what object you would struggle to live without.
If you missed any part of the show you can listen again for the next seven days.