#MRWomenToday: We all scream for.... non-gender specific shoes. Apparently.
On the programme today: -
- Clarks shoes has been treading on some toes after calling a girls school shoe range 'Dolly Babe' – while the boys equivalent is called 'leader'...we asked if you think this is everyday sexism or just silly, and you were very vocal about it!
- also today, ower Chris Williams is having far too much playing with pirate radio ships as, on this day in 1967 (that's 50 years ago!), the Marine Broadcasting Offences Act was introduced to stop pirate radio. Radio Caroline was its main target; Christy spoke to him from his floating studio on the Ross Revenge to look into the history and find out more about pirate radio, women in broadcasting and much more. *The full length interview is now available as a podcast at this link;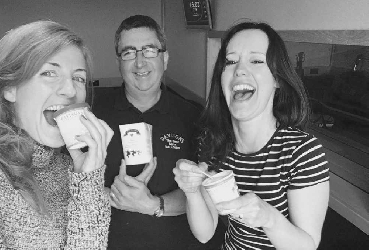 - we looked at news that Scotland could become the first country in the world to make sanitary products free in places like schools and colleges (and will be following up with this on tomorrow's show);
- and our studio guest was the man behind the nation's favourite treat, as Ice Cream Man Ian Davison popped in to tell us all about running the day to day operations of the family business, Davison's Ice Cream. Also - wearing his other hat of chair of Peel Commisioners - Ian answered questions about the regeneration of the city and put out a plea for people to enter this weekend's soap box Derby - you can contact Ian on 496121 or visit the main website here. You can also find out everything that's going on in Peel by visiting the Peel Online site.
If you missed the show, you can listen again for the next 7 days at this link. Tomorrow, we'll be talking crime fiction with three authors, Join us from 2pm.