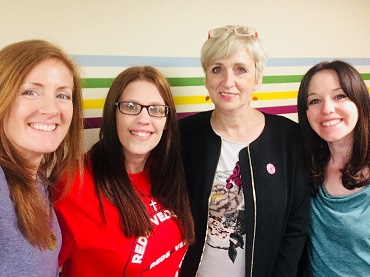 On the programme today: -
- Mum Emma Watterson told us all about her remarkable 3yr old daughter Levi-Rose who has a very rare life-threatening illness vascular EDS; find out more about the 'Reds4Veds' campaign to raise funds and awareness here, and be sure to wear red on Friday and post pictures with the hashtag #Reds4Veds
- we were also joined by Erika Rushton, chair and Director of the Baltic Creative initiative who has returned for IslExpo2018 and who inspired us with talk of her Liverpool based 'Beautiful Ideas' Company - you can see Erika on the 'Mastering the Future of Work' panel tomorrow at 1pm and at the Fireside Chat at 8pm.
- also today, as the theme for Mental Health Awareness Week 2018 is 'stress', we shared some tips on how to sleep better to reduce stress as suggested by sleep expert Neil Robinson.
If you missed any part of today's programme you can listen again at this link for the next 7 days.
Tomorrow at 2pm Alex Bell will be presenting a programme live from IslExpo, then Beth and Christy are back on Thursday with a very special programme for Mental Health Awareness Week, spending the hour in the company of Gemma Park who is undergoing gender reassigment, and speaking with Sue Baker OBE from the mental health charity Mind about the Time To Change campaign.