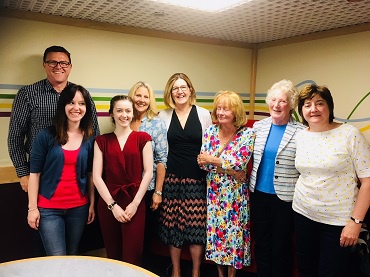 On the programme today:
Janet Bridle held the winning bid for the "Women Today TakeOver", which was offered at the recent auction for Rowan Henthorn's Exxpedition trip. She decided to theme the programme on Fitness At The Hub, so came in with instructor Lesley Christian to tell us more about the initiative. They brought with them three of the women who regularly take part and have benefitted - Jan Weston, Carda Best and Norma Oldham.
Also today we were joined by another couple taking part in the Strictly Manx competition - Les Coates is Head of Operations at Microgaming and has no previous experience of dancing; his dancing partner Amy Richardson- Hall is teaching him the Pasa Doble and together they are raising money for Alzheimers Isle of Man.
- Christy caught up with the newly elected Chair for the Isle of Man Federation of the Women's Institute, Pat Nutter, along with National Federation Chair Lynne Stubbings who visited the Island recently (pictured below - with thanks to Aileen Rampton)
- and ower Dollin Mercer chats to social media sensation Liam Rice (picture below, with thanks to Liam for photo) ahead of the first episode of 'A Year To Fall In Love' which airs on Channel 4 this evening at 10pm.
If you missed any part of today's programme you can listen back in full at this link for the next 7 days.