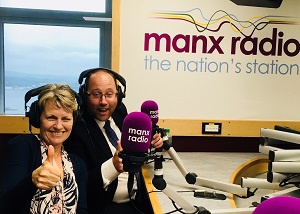 On the programme today, we were joined by Director of 6th Form at Ballakermeen High School Richard Karran, who is behind the organisation of the 2018 Higher Education Conference; also Jane Murphy, a delegate at the conference representing the University of Huddersfield. Find out all the details about the conference and associated talks/events in the video clip below, or listen to the full interview and programme at this link.
Also today: Christy spoke with visitors from a small village in Uganda, representing the Mifumi Charity. Beatrice Atyang (charity Co-Ordinator), Margaret Apio (Education consultant for Mifumi school) and Christine Auma (Mifumi school pupil) were also joined by Gary Cracknell from Standard Bank Isle of Man and Patrick Brennan Standard Bank Jersey, their hosts for their trip. Listen to the full interview via our podcast page here.
We also highlighted the The Diana Award anti-bullying campaign (which applies to the workplace as much as it does to school!) and asked whether one mum's decision to 'shame' her misbehaving children in a supermarket was a good idea, or a disciplinary step too far - you were all very vocal!.
If you missed any part of the programme you can listen again for the next 7 days at this link