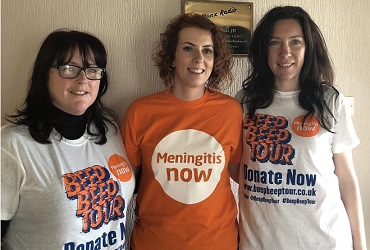 On the programme today: -
we were joined in the studio by Heather Norman from charity Bowel Cancer Isle of Man, celebrating their 10th Anniversary this year and also preparing for Bowel Cancer Awareness month which begins next week. Find out more at their website
Beth caught up with Chantal Kingswood and her sister Vicki, along with Lynsey Harris from KPMG IOM; who are raising awareness about meningitis with a rally called the 'Beep Beep Tour' in memory of Chantal and partner Adam de Silver's son Reggie who died from the illness last year. The Beep Beep Tour will see teams drive the cheapest car they can find from the south coast of England to the Isle of Man, stopping to complete tasks along the way. The race will finish here on 24 April - World Meningitis Day.
and Christy spoke with exercise physiologist and FitrWoman's co-creator, Dr Georgie Bruinvels. She has set out to help the countless women she has spoken to throughout her research who have felt that their menstrual cycle is a barrier to regular exercise or were unsure whether it was healthy and safe to exercise at certain points in their cycle. Find out more about the app here, or download it from the App Store or Google Play.
If you missed any part of today's programme you can listen again at this link for the next 7 days.