FoI reveals 27 agreements reached with former employees in 22/23
Almost £2 million has been paid to staff who left the Isle of Man Government in the last financial year.
New figures show there were 27 agreements reached in 2022/2023 at a total cost of £1,978,144.11.
The payments were made to staff who had left their positions for a number of reasons including via a Mutually Agreed Resignation Scheme, through voluntary or compulsory redundancy and via severance pay.
The Cabinet Office paid out more than £1 million of the total figure (£1,194,148.45) for the year to date (up to 31 December).
This was followed by the Department of Health and Social Care (£244,738.00) and the Department of Infrastructure (£213,443.98).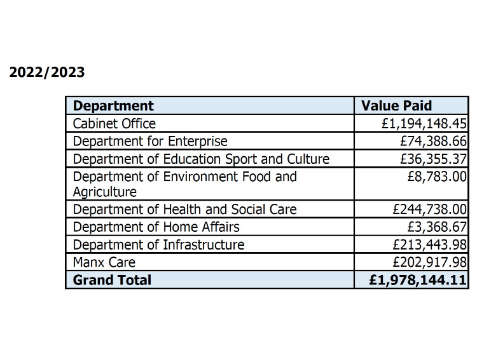 The number of exit agreements reached in 2022/2023 is the second lowest total over the last five years.
In 2021/2022 there were 15 resulting in a total pay-out of £514,722.28.
In this year the Department of Infrastructure topped the outgoings (£200,000,00) followed by Treasury (£83,821.34).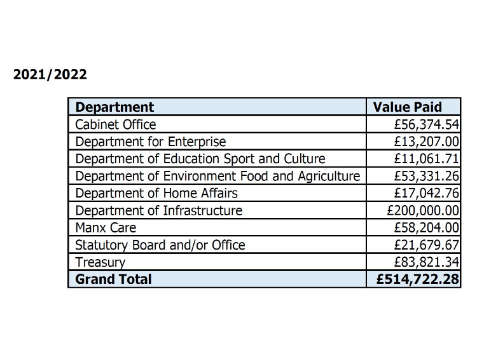 In 2020/2021 more than £1 million was spent (£1,237,632.12) on 33 agreements which spanned five government departments.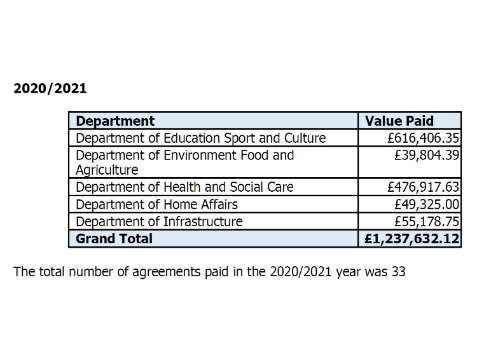 In 2019/2020 there were 44 agreements reached which cost £2,446,179.86.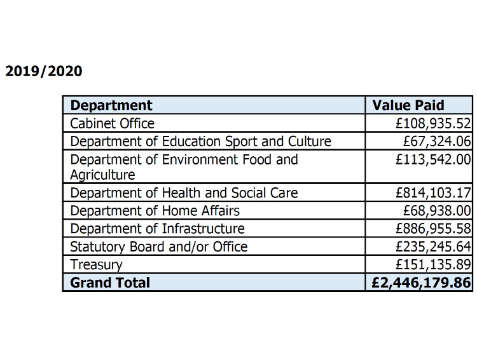 In 2018/2019 there were 49 agreements reached which cost £1,781,883.85 - the Department of Health and Social Care paid out the majority of this figure (£1,255,560.00).
In 2017/2018 there were 47 reached, at a total cost of £1,842,141.73, with the Department of Health and Social Care again paying out the most (£820,591.05).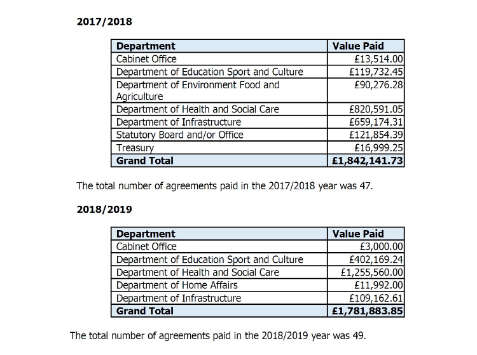 This data has been released as part of a response to a Freedom of Information request.
The Office of Human Resources was asked to provide the details of payments made to staff who had left government since 2017 and the reasons for their departure.
This was across all government departments, Manx Care, and statutory boards and offices.
In response the Cabinet Office said it was unable to provide some of the information sought - including a breakdown per payment type by department - saying it would potentially identify individual previous employees.
A request for the number of payments, broken down by department or division, was also refused.
The Financial Services Authority, Manx Industrial Relations Service, Manx Utilities Authority and Isle of Man Post Office are not included in the figures.
In response Chair of the Public Services Commission, and Cabinet Office Minister, Kate Lord-Brennan said: "In any large organisation, redundancy, performance or disciplinary issues will inevitably mean that employers seek to terminate the employment relationship.
"In some cases this can, and may need, to be achieved by way of a conciliated settlement agreement, meaning that some employees exit the organisation with some financial recompense in order to end the employment and to avoid costly legal claims
"Nevertheless, the use of conciliated settlement agreements within the Isle of Man Government, and the figures involved over a number of years, has been a matter of concern for me and so we are reviewing the use of these types of arrangement to ensure they are only used in exceptional circumstances, since the use of settlement agreements shouldn't replace appropriate management, conciliation or HR practices, or indeed make up for any lack in these areas over a period of time."