Credit: Digital Poverty Alliance
They claim current prices are exacerbating digital poverty on Island
The Digital Poverty Alliance - a UK-based charitable coalition - is calling on the Manx Government to address what's being described as 'exceptionally high broadband costs'.
A Manx resident initially alerted the organisation to the perceived issue.
The Digital Poverty Alliance believes current prices of internet access are exacerbating the issue of digital poverty on the Island.
It's since written a letter to Cabinet Office Minister Kate Lord-Brennan, copied to Arbory, Castletown and Malew MHK Jason Moorhouse, calling for more action to be taken.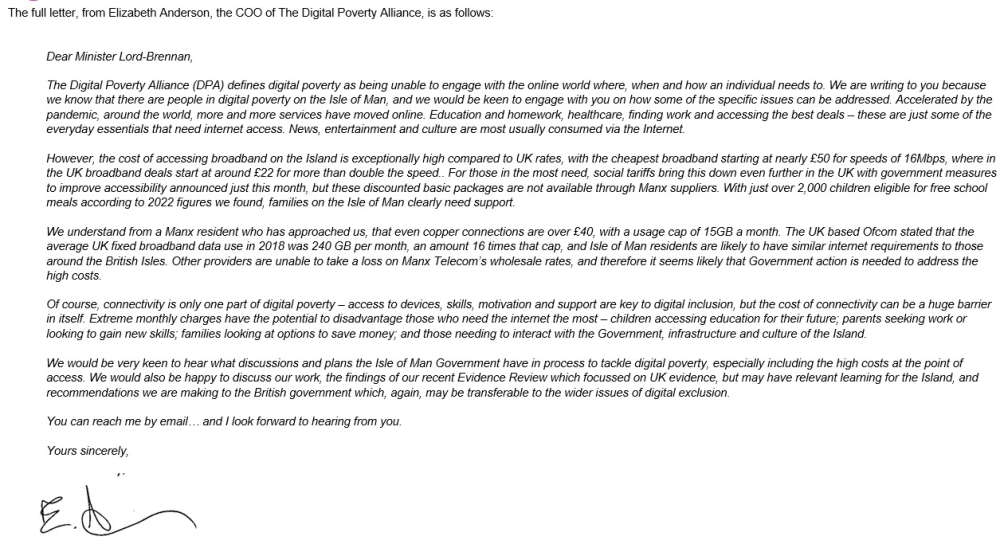 In the letter the DPA expresses an interest in discussing the specifics and has highlighted - as a result of the pandemic - many businesses are operating a work-from-home policy.
Education and homework have also been raised as areas of which internet access was deemed essential in the modern era.
Figures relating to costs are also part of the letter in which the cheapest broadband rate is highlighted at nearly £50 for a 16Mbps line in comparison to UK prices which start at £22 for more than double the speed.
The DPA adds that in the UK social tariffs bring that cost down even further and, with just over 2,000 children on the Isle of Man eligible for free school meals, families clearly need support.
Manx Radio has contacted the DPA and Cabinet Office minister for comment.