All but two authorities announce increases
All of the Island's twenty two local authorities have revealed how much they need from ratepayers to provide services for the year ahead.
Each area has announced a new rate, a 'pence in the pound' figure which is multiplied by the 'rateable value' of a property.
The result of this calculation is how much a ratepayer must fork out to fund the work of their local authority.
Rates will rise across the board, bar two areas in the west of the Island.
The greatest change will be felt by ratepayers in Bride, who face a 11 per cent hike, but still pay the lowest rates in the Island.
Those who live in the capital will still pay the most, with Douglas setting the figure at 444 pence in the pound.
You can view each authority's new rate in the table below: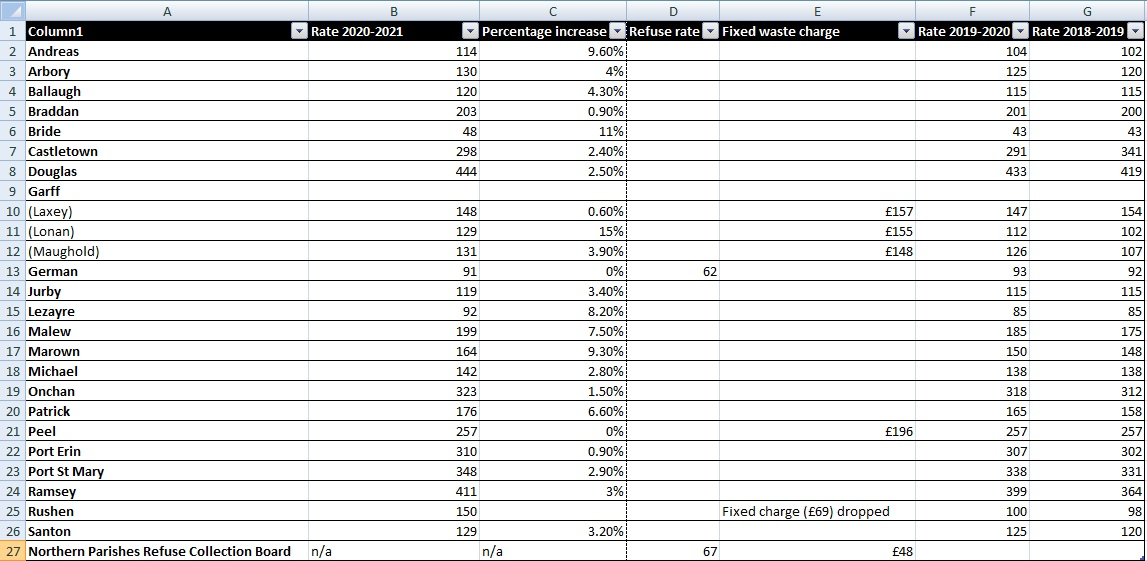 Inflation and the rising cost of waste collection and disposal were common reasons each authority pointed to when announcing increase.
A 1.9 per cent increase gate fees at the Energy From Waste Plant, and a government pay award of 2.75 per cent, were also blamed.
The cost of running the Island's four civic amenity sites, which are managed by shared boards and committee, were also a factor in the wave of rises.
Rates in Arbory and Rushen were set at the same level to prepare for the merger of those two authorities, following local elections in spring.
Meanwhile in the Garff district, residents in Lonan ward saw a 15% increase in rates, with Maughold ward up 3.9%.
These rises are part of a process known as 'equalisation', intended to bring the two rural parishes into line with the Laxey rate, a move agreed when the three chose to merge in 2016.
Rates pay for services such as refuse collection, street lighting, public toilets, and leisure facilities.
It's not just local authorities that set rates; Manx Utilities sets water and sewerage rates, whilst burial ground authorities collect a churchyard rate.