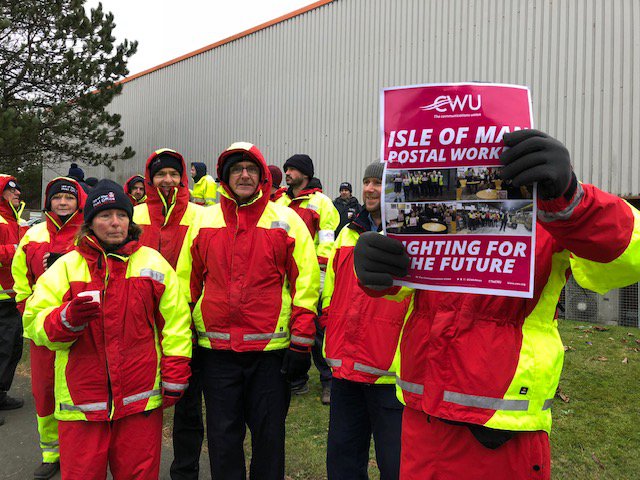 Postal workers on strike in December 2018
No compromise agreed
It would appear there is no love lost between the board of the Isle of Man Post Office and the Communication Workers' Union, which is negotiating on behalf of postal workers over proposed changes to their terms and conditions.
It's been confirmed the planned strike from Post Office workers, scheduled to take place for three days from Valentine's Day tomorrow, will go ahead.
It's after a final day of negotiations between the Communication Workers' Union and the Post Office board failed to reach a compromise.
Industrial action will commence from 5.30 tomorrow morning (14 Feb) which is expected to create widespread disruption to the service on one of the Post Office's busiest days.
Big moves
Counter proposals lodged by the union resulted in 'very little movement' according to Terry Pullinger, the Deputy General Secretary Postal of the CWU.
"There are big strategic issues over the pensions" he told Manx Radio, moments after talks concluded.
"In terms of six days to five day working week, letter deliveries, issues on pay, big issues on new-automation and deferring the delivery times.
"I want to be crystal clear here, we have made some big moves."
He says the board has shown no desire for compromise.
It is the second strike staged in 2 months by Manx postal workers, who ran a picket line back in December, prior to Christmas.
We'll hear more from Mr Pullinger on tomorrow morning's Mandate programme.