#MRWomenToday listen again: farmers' markets, field naming and the nature poetry
On the programme today: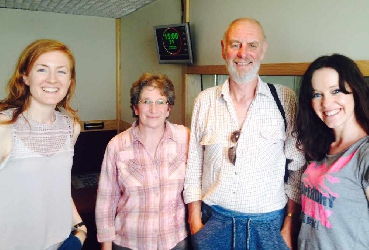 ...today we talked about the 10th anniversary celebrations for the Isle of Farmers' Markets taking place at the Villa Colonnade on Saturday July 1st 10am-3pm; Sheila Gawne Chair of the IOMFM, told us how they began, what the aims are behind the markets, what has been achieved over the past decade and what we can expect from the anniversary market;
......also with us this afternoon was Manx Bard John Dog Callister, who came in to tell us about a much loved Manx figure, Dr Larch Garrad, who is going to have a meadow named after her on Friday; he told us a little about Dr Garrad, how the meadow came to be and how the public can take part in the naming ceremony;
.....and Howard Caine went Wild with a bit of poetry today for #30DaysWild in association with Manx Wildlife Trust
If you missed the show you can listen again at this link for the next 7 days.
Tomorrow, we'll be finding out about the graduate exhibition at University College Isle of Man, and hearing what musical delights are in store at the Mananan Festival at the Erin Arts Centre. Tune in from 2pm!