#MRWomenToday listen again: happy BethDay!
It was a special programme today, full of wonderful creative women who popped in especially to help celebrate Beth's Birthday.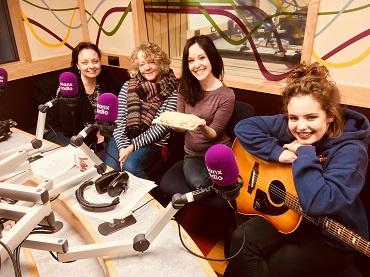 - JANET LEES, author and poet, from the Hub in Port Erin;
- JANE HALL from the Manx Art Directory; and
- MAE CHALLIS, singer songwriter extraordinaire
We also discussed the rather divisive story that was on BBC North West last night about Altrincham Grammar School for Girls asking teachers to stop referring to pupils as "girls" in case of offending any students that don't identify as the word. You were very vocal!
And Christy subjected everyone to her first attempt at cake baking since she was a child, presenting Beth with some rather suspect lemon curd cupcakes. They were - how shall we describe them? - rather 'solid'...
If you missed the show, which included live poetry from Janet, a live Art session as Beth designed her own mug (see below) while Jane filled us in on Arts news and superb live music from Mae, you can listen again for the next 7 days here.