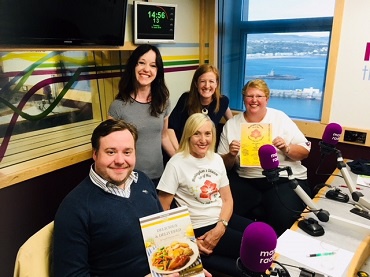 On the programme today, we were joined by Helen Martin, founder of the Isle of Man Huntington's Support Group and Charity, and Bev Garvey who has the Huntington's gene, both of whom came in to raise awareness of this rare and debilitating condition. You can find out more via the Support Group facebook page, and the UK website, and can vote for Helen You have until Friday 22nd to vote for Helen in the Fundraising awards at this link. you can also donate to the charity by contacting secretary Miss L Watson at 5 Windermere Avenue, Lakeside Gardens Onchan.
Also today we spoke to Ben Heath, Operations Director for Wiltshire Farm Foods Isle of Man, which was set up here to offer a home delivery meal service when the meals on wheels service was ended. They specialise in offering frozen meals, with over 300 dishes to choose from, catering for all dietary requirements and tastes, hand-delivered by local drivers who are reliable, friendly and here to help. Find out more by calling Claire on 626393 and see the whole range of foods on their website here.
We also talked about the 15 year old gaming addict and heard sage words of advice on the subject from Cormac Russell for parents and children alike, and looked at a UK story about the town airing their laundry in public in support of one resident.
If you missed any part of the programme you can listen again for the next 7 days at this link.