Image: Mannin Branch Celtic League Facebook page
NGO condemns use of North Wales and Ronaldsway
A spokesperson for the Celtic League says the NGO will continue its opposition to the training of Saudi Pilots in Manx airspace.
At the organisation's annual general meeting, two resolutions were passed relating to the Isle of Man.
The first saw the Mannin branch call upon the other Celtic nations to assist and support the current campaign, opposing the training of pilots from the Gulf State in North Wales and on-Island: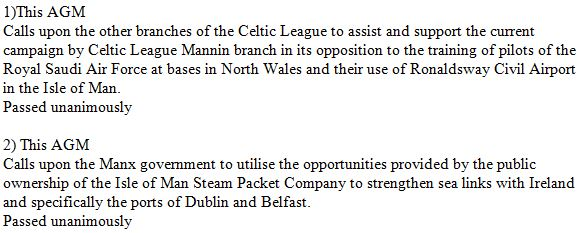 Director of Information Alastair Kneale wants the Manx government to change its stance:
Chief Minister Howard Quayle has previously said the Manx government is powerless to intervene on issues of defence or external relations.
The training activity in Manx airspace is something that has sparked opposition - both from protesters outside Ronaldsway airport, but also from Clare Bettison MHK who has been vocal about the subject.
You can listen to Mr Kneale speaking to Manx Radio's Dollin Mercer here: